Padma Awards 2023: Padma Awards have been announced on the eve of Republic Day. The President has approved the conferment of 106 Padma Awards for the year 2023. This includes 6 Padma Vibhushan, 9 Padma Bhushan and 91 Padma Shri. Among the awardees, 19 are women. The award will be given to 2 people in the category of Foreigner/NRI/PIO/OCI and 7 posthumously in the list. Let us tell you that the winners of Padma Awards, one of the highest civilian honors, are announced every year on the eve of Republic Day. These awards are presented by the President of India at a formal function, usually held at the Rashtrapati Bhavan around March/April of the year.
Padma Vibhushan
The Padma Vibhushan is the country's second highest civilian award after the Bharat Ratna. This year 6 personalities have been given Padma Vibhushan. Former Defense Minister of India and former CM of UP Late Mulayam Singh Yadav has been awarded Padma Vibhushan posthumously. Besides him, ORS pioneer Dilip Mahalanabis has been awarded the Padma Vibhushan posthumously. Known for his work in the field of Oral Rehydration (ORS), Dr. Dilip Mahalanabis saved more than 50 million lives. Apart from these, the names of Balakrishna Doshi (posthumous), SM Krishna, music composer Zakir Hussain and Srinivas Vardhan are also included in this list.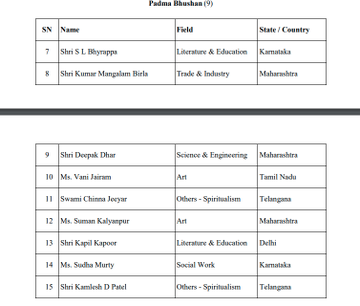 Padma Bhushan
This year 9 personalities have been selected for Padma Bhushan. These include Sudha Murthy, Kumar Mangalam Birla, SL Bhairappa, Deepak Dhar, Vani Jayaram, Swami Chinna Jeyar, Suman Kalyanpur, Kapil Kapoor and Kamlesh D Patel.
Padma Shri
This year 91 Padma Awards have been announced. The list includes Hirabai Lobi, Munishwar Chander Davar, Rakesh Radheshyam Jhunjhunwala (posthumously), RRR film composer M.M. The names of Keervani and actress Raveena Ravi Tandon are included. Other personalities who received Padma Shri are Naga social worker Ramkuibanve Nevame, VP Appukuttan Poduval, SC Shekhar, Vedivel Gopal and Mosi Sadaiyan active in the field of animal welfare, organic farming motivators Tularam Upreti and Nekram Sharma. Janum Singh Sai, Dhaniram Toto, B Balakrishna Reddy, Ajay Kumar Mandavi, Rani Machaiah, KC Runremsangi, Risingbor Kurkalang, Mangala Kanti Roy, Moa Subong, Munivenkatappa, Domar Singh Kunwar, Parasuram Komaji Khune, Ghulam Mohd Zaj, Bhanubai Chitara, Paresh Rathwa , Kapil Dev Prasad are also included.
Posted By: Shailendra Kumar